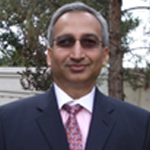 ---
Gora Datta, a Science and Engineering alumnus of BITS., Pilani and HL7 International Ambassador, is the founding Chairman and CEO of CAL2CAL group of companies (est. 1996 in California, USA: http://www.cal2cal.com) - a multi-national innovative ICT products and solutions organization with subsidiary and offices in Australia, India & USA.
He is an accomplished, creative and visionary executive with around 32 years of international professional experience in the field of Computing and Software Engineering. His global professional experience spans many countries. As an eHealth, public health and ICT subject matter expert, Gora has provided consultancy to & collaborated with large governmental organizations (like the County of Los Angeles, Centers for Disease Control & Prevention, Centers for Medicare & Medicaid Services, USA; Governments of India, Indonesia, Niger, USA) and multi-lateral agencies (like The World Bank, WHO, UNICEF) to name a few.
He focuses on mobile technology based, cost effective, standards based open solutions for social protection and healthcare delivery in both developed and developing world. Gora is an avid traveler, reader and loves to play bridge in his spare time on his mobile PDA!